My Amazing Trip To Yellowstone & The Grand Tetons
---
My Tale Of Two National Parks
---
I went to Yellowstone National Park & The Grand Teton National Park, to me the most iconic National Park in America, in October 2020 for a week after peak fall season and a few days before the park closed many roads for winter. The local general store to our camp site was closing the day we left, for the season, and anything they had is all they would have and because of that the options were slim.
This was my second trip to the individual parks and I saw more than I had the last time while revisiting others, but there's still so much more to see and so many places to spend time in. I need to make a trip in late spring this time, as I avoid summers due to overwhelming crowds.
This trip I was wanting to focus on more wildlife than I had before but I went underequipped with only a maximum distance of 400mm lens and I realized that was not enough, and that wildlife is a lot more of a waiting game than landscape photography is. I know when a sunrise is coming up, I know when the sun is going down, and I know where to expect a milky way, but wildlife is a total guess.
---
French-Canadian trappers gave the mountain range the bawdy name of "Grand Tetons," meaning "big breasts" in French.

The Lower Falls of The Yellowstone River at Sunset

Cascading from the 590,000 year old Canyon Rhyolite lava flow.

The Snake River is the nation's fourth largest river; 42 miles of it are in Yellowstone National Park.

Grand Teton National Park is an almost pristine ecosystem and the same species of flora and fauna that have existed since prehistoric times can still be found there.

The Canyon possessed the combination of precipitous jagged cliffs, wildlife sightings, and the mesmerizing color that included the namesake yellow rocks that earned the national park its name.

Elk are the most abundant large mammal found in Yellowstone and are an important species within the Greater Yellowstone Ecosystem.

Though the terms are often used interchangeably, buffalo and bison are distinct animals. Old World "true" buffalo are native to Africa and Asia. Bison are found in North America and Europe.

Yellowstone preserves the most important bison herd in the United States.

It is likely that Native American tribes knew of the falls for centuries. Captain William Clark of the Lewis and Clark Expedition made a note in his journal about hearing of the falls but did not believe the story.

Common ravens are smart birds, able to put together cause and effect. Ravens are attracted to wolf kills and may follow wolves while they hunt elk.
---
The light has to be right otherwise it looks like a standard tourist shot, the scene has to be right otherwise it looks sporadic. You also have to work around other people and their cars being in the way, or you can try your luck out on the trails of the back country away from most of the people but in the heart of Yellowstone that could be risky business as there's always a chance of wolves, grizzly's, moose, and coyotes among others. The chance of being attacked is unlikely, but not impossible.
---
Controversy Within Wildlife Photography
---
I've only recently started to venture into wildlife photography, and while I'm not sure it's suitable to my style, I have discovered there are some deep issues within the world of wildlife photography. Drama with artists!? No way! All jokes aside, it is true and it is serious. Wildlife photography is difficult, it's a game of patience, luck and expensive equipment. Some people aren't really cut out for it, and I might be one of those people.
Recently, there's been a story that world-renowned photographer David Yarrow was photographed and documented having baited foxes so he can photograph them. He's been accused of it multiple times, the most recent coming from Colter Bay, Wyoming which lies right between Yellowstone National Park and the Grand Teton National Park.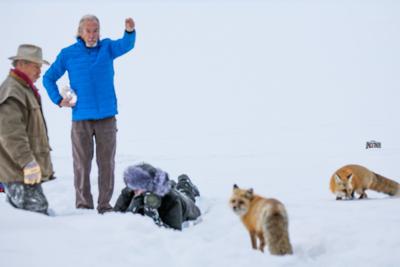 Baiting is when you feed animals so that you can photograph them easily, but the problem is the animals learn that cars approaching bring people that will feed them, which will then lead many to be hurt by cars or people hurt by said animals look for food. There's a saying: a fed animal is a dead animal, because they'll either be killed by car or by a team having to track down the animal for something they may have done to a person in search of food that will result in the animal being put down.
I get it, wildlife photography is hard. It is definitely one of the most challenging subjects for a photographer. Beyond the technical skills and equipment needed, it's about being at the right place, at the right time, to observe the behavior of the animals and capture them in their natural element is few and far between since many of them shy away from interacting with people, or avoid their presence overall.
The temptation to bait wildlife to perform in front of the camera is unfortunately one that too many photographers don't resist, whether by ignorance or, sadly, by choice.
Please let me know which ones are your favorite!
I'd love some feedback on what you like of this park as well.